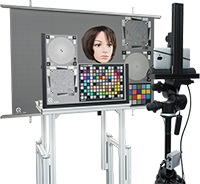 Creating the perfect "selfie" image
There have been many instances throughout the history of photography where a profound change in either technology or technique has changed the way we look at images. One of the most recent examples is the "selfie" phenomenon. For this reason, we are very excited to announce our latest solution, the iQ-Selfie Studio.
By combining specialized charts, a built-in mannequin head, and our touch screen iQ-Trigger-T, we have created a way to properly test and evaluate a selfie image.
Expanding our API portfolio with the LED-Panel API
We are pleased to announce the newest addition to our software tools, the LED-Panel API. In combination with the LED-Panel itself, this API allows users to design their own software interface to fit their individual requirements. You can now customize start and stop time, adjust frequency, and program other products, such as the iQ-Trigger, to function with the LED-Panel. Follow the link for more details.
Upcoming Events

Prepare yourself for a busy next few months
This coming fall, Image Engineering will be participating in a variety of different image quality events. In the coming weeks, we will share more of what you can expect from us at each exhibition. We look forward to seeing you at one (or more) event.
August 23, 2017
With Image Engineering
Our engineers will be giving a webinar on iQ-LED technology and its integration into control software. iQ-LED technology is quickly changing the way image quality is measured and evaluated so don't miss your chance to learn more.
September 11 – 15, 2017
Lillehammer, Norway
The 25th CIC will feature many new short courses including one on "camera color characterization: theory and practice, taught by our CEO Dietmar Wueller.
September 14 – 19, 2017
Amsterdam, Netherlands
The International Broadcast Conference is the world's leading broadcast trade fair for professionals in the production, management, and delivery of entertainment and news content.
September 19 – 21, 2017
Brussels, Belgium
The Automotive Sensor and Perception Conference focuses on advanced driver assistance systems.
October 10 – 11, 2017
San Francisco, USA
The image sensor automotive conference focusing on the future of auto sensors and cameras.
October 16-19, 2017
Rochester, New York
This fall, we will be joining our business partner Trioptics and participating in the Optifab, one of the world's largest optical manufacturing conferences.