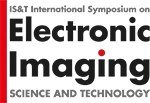 This year's Electronic Imaging Conference in San Francisco presented itself yet again as an important platform for the exchange between experts in industry and science dealing with the diverse issues of modern photography in private and professional areas.
Image Engineering's top management contributed to the symposium with three lectures:
"Linearization and Normalization in Spatial Frequency Response Measurement"

In his lecture, Uwe Artmann (CTO, Image Engineering Germany) explained the influence of linearization and normalization for the image quality measurements results of imaging systems with respect to SFR. He identified the differences between different test graphics, discussed the common assessment and put forward a new approach.

"Image Stabilization Performance: Existing standards and the challenges for mobile imaging"

Uwe Artmann (CTO, Image Engineering Germany) evaluated the existing standards for the evaluation of image stabilization systems in mobile devices. He described the challenges and presented solutions developed by Image Engineering for the characterization of various image stabilization systems, including systems based on opto-mechanical components or pure signal processing.

"Image Flare measurement according to ISO 18844"

Dietmar Wüller (CEO, Image Engineering Germany) gave an overview of the various sources of scattered light, the expected changes for the future ISO 18844 standard, as well as potential measuring methods.
Two speakers from the Rochester Institute of Technology (United States) referred to Image Engineering's test method developments.
Susan Fernand presented her comparative study to evaluate image quality in her lecture:
"A methodology for perceptual image quality assessment of smartphone cameras"
She compared the objective results of measurements of the TE42 test chart and the iQ-Analyzer's automatic evaluation with the subjective evaluations of observers. A positive correlation was found between the methods. This confirmed that Image Engineering's objective process reflects the subjective evaluations from observers.


Nitin Sampat spoke about the results of his comparative study of the spectral sensitivity measurement using a monochromator and the camSPECS express system developed by Image Engineering in his lecture:
"Which factor is more important in obtaining good capture characterization, and, consequently, renders higher color accuracy: the characterization of the camera's sensor, or the characterization of illuminant?"
The cost-effective camSPECS system's performance was effectively proven.