The growing popularity of touch screens is also noticeable in the Image Engineering test lab: the proportion of test devices with touch-screen operation is continuously increasing. The developers have responded with a new version of the automatic release mechanism Digitus: the remote Digitus-T activates the camera's shutter release by touching a capacitive display, without applying mechanical pressure. This compact device can be securely attached to smooth, clean surfaces by using TPE-Bands (thermoplastic elastomer), which are included in two lengths.
Higher speed, increased accuracy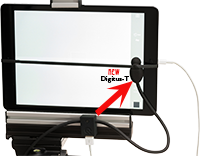 Digitus-T simplifies and accelerates the testing of cameras, integrated tablets and other mobile devices in smartphones and digital cameras, which can be operated via touch display. At the same time, the automatic triggering device increases the accuracy and reliability of test routines. The trigger can be pressed reliably in freely programmable intervals and with a delay of only 0.5 ms. Digitus-T can also be used as a remote shutter release for cameras with capacitive touch screens. For example, for the exposure of series with a freely definable frame rate or for the production of time-lapse photography.
Proven control software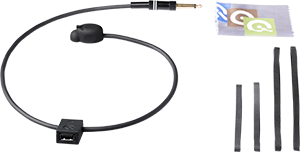 Digitus-T is operated via the same control box and software as the remotely controlled mechanical touch finger Digitus. The user can operate the tripping device from a PC using the USB Box and the Digitus API. Digitus-T can be combined with different devices from the Image Engineering product program, including
Digitus-T is now available.