CAL3: optimized for lenses with an extreme wide angle
Cameras for industrial applications in quality control, security systems, or in the automotive sector must often cover a wide angle. Consequently, the need for measuring equipment for lenses with extreme wide angle has increased. Our developers have created a variation of the CAL1 light source. With the subsequent CAL3 model, Image Engineering is the first to provide an illumination for the calibration of industrial cameras.
Spectral flexibility through iQ-LED technology
CAL3 uses iQ-LED technology. With 22 LED channels and the integrated micro spectrometer, testers can precisely simulate a desired light spectrum – from standard lighting situations, such as A, D50 or D65 to spectral programming according to individual specifications. Controlling CAL3 is achieved using last year's refined iQ-LED software, which has met with much approval by EX1 (external spectrometer), CAL1, CAL2, LE7, LE7-IR or iQ-Flatlight users.
An exact and fast measurement cycle
A special white coating on the inside of the integrating sphere and a non-reflecting special diffusor ensure the uniform distribution of light, so that CAL3 will reach a homogeneity of 95%. Thanks to the short response time, it is possible to make quick changes between illuminants. Relevant parameters such as exposure settings, white balance, OECF measurements, determining variances of spectral sensitivity between different devices, luminance shading (Evaluation will be supported by iQ-Analyzer software starting with version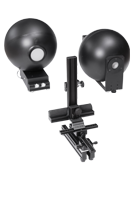 6.1.4) and pixel errors can be recorded. For measurements, the lens is pushed one centimeter into the opening of the integrating sphere.

For a comfortable and precise adjustment of the camera, we recommend the newly developed iQ-Align for CAL1 and CAL3. Initial tests by customers confirmed the handling effectiveness.

Orders made during the development phase at Image Engineering show that the time has come for a light source like CAL3. The waiting period has an end because the new product is included in Image Engineering's portfolio.