Image Engineering took on the issue of flicker frequencies during the development of the new LG3 light box and combined it with even higher intensity. LG3 creates new possibilities in laboratories and expands the test areas for dynamic-range measurements considerably through modern lighting technology. In this way, measurements of high dynamic range can also be realized with short, practical exposure times. Testers can choose between pulse width modulation in a constant mode with 32 kHz and variable duty cycle or flicker mode variable frequency from 10 to 500 Hz and variable duty cycle. Light sources working with variable frequencies can be simulated e.g. traffic lights, vehicle or street lighting. In that way cameras in the security and automotive area can be tested and optimized for all kinds of real life situations.
Flicker - simulation and high homogeneity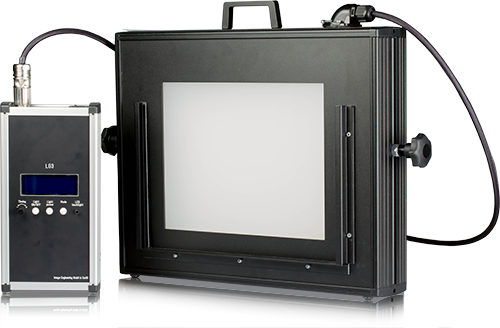 LEDs are used for the light source in the LG3 with a CCT (correlated color temperature) of 5000 K. The new illumination box reaches a homogeneity of about > 95% and can be dimmed infine gradations. Thus, LG3 combines numerous features, which ensure maximum flexibility in the laboratory:
high intensity of approx. 150,000 lx
minumum intensity of approx. 5 lx
variable frequencies
variable duty cycles
a high degree of homogeneity
More information can be found here:
LG3 data sheet (preliminary)
Reliable and easy to use
The lighting method and intensity ranges can be set via an external control unit or software solution (C++ API optional). The light box is suitable for size D280 transparant charts. The lighting box LG3 will be available from Image Engineering worldwide in December 2016 (release will be announced soon).