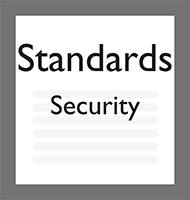 In the area of security and surveillance cameras, the conversion from analogue to video is still ongoing. In connection with this conversion, we see a variety of new cameras and features. Gone are the times when all cameras had one sensor size, one lens mount and inter changeable lenses. Often modern dome cameras have fixed lenses and the size of the sensor can only be identified from the datasheet or by disassembling the camera.
To address these issues and clean up the mess of how manufacturers report technical specs in their datasheets, the IEC has started an initiative in its technical committee 79 working group 12 to standardize how to evaluate the image quality of a digital video surveillance camera. A draft of the document will come out in October for public review.
Image Engineering joined the committee over a year ago and has played an active role in putting the individual measurements together. Quite a few of the measurements are based on exiting ISO and IEC standards for digital still and video cameras. Therefore, the wheel did not have to be reinvented and many of the existing tools for camera testing can be used directly for the measurement or in a slightly modified way.   

IEC 62676-5 is what the standard will be called. In section 4 of the document, the camera's specification items will be described and defined. That way a unified terminology and understanding will be published and hopefully be used in the future.
Section 5 specifies the procedures of how to measure relevant image quality parameters. Here is a preliminary list of the parameters:
Resolution (based on ISO 12233)
Minimum Illumination (based on IEC 61146-1)
Dynamic Range (based on ISO 14524 and ISO 15739)
Visible Dynamic Range
Infra-Red Illumination Operating View Distance
Image Distortion (based on ISO 17850)
Image Flare (based on ISO 18844)
Maximum Frame Rate (based on ISO 15781)
Potential solutions for future measurements are discussed in the Annexes. These are:
Low Light Performance (based on the upcoming ISO 19093)
Streaming Bitrate
IP Video Latency Measurement
Motion Blurr Measurement
The final document is expected in the first half of next year and Image Engineering already has a lot of the required test equipment in its portfolio. We will make sure that the rest of the tools will also be available by then.

(Diermar Wueller, CEO Image Engineering)