Test charts are perfect for testing digital cameras, cell phones or other objective measurements, but there are certain aspects of testing a camera that requires a real scene. One of these aspects is the correct white balancing for different types of illuminants. Another is determining the visual loss of detail due to noise reduction or the amount of noise in an image.
You can, of course, do tests with real scenes for yourself, but how to make these tests comparable over time? Or between different work groups from different parts of the world?
We have developed the lightSTUDIO to make this type of visual analysis possible. It provides the standard types of illumination and is large enough to illuminate a whole tabletop scene. It also allows remote control and the dimming of the lights from a PC using a USB interface.
The lightSTUDIO always comes with the same interior objects (see picture to the right) to produce a more accurate worldwide test comparison between labs. Each object was carefully chosen based on our experience in camera testing and can provide you with useful information about your camera system.
The lightSTUDIO with its interior objects and the switchable light sources has developed into one of our top selling products for image quality analysis. It is well on the way to becoming the industry standard for a camera test scene.


Please note that images are only examples and details and product layout may differ.

Standard lightHEAD
The Standard lightHEAD, our first and continuously demanded lightHEAD option, offers six different light sources including, four different fluorescent light sources (D50, D65, F11, F12) and two halogen based light sources (halogen, halogen with blue filter). Each light source is dimmable between 1% and 100% intensity. Each light source can store an intensity. These options cover the main standard types of illumination.
Directly control the lightHEAD by using the panel on the device itself or by using a software solution.
LED V2 lightHEAD
Exchange the Standard lightHEAD for the LED lightHEAD, which is based on iQ-LED V2 technology. Similar to our other LED products, the lightSTUDIO-L uses ten individual iQ-LED V2 elements to replicate almost any light spectrum for your camera testing. These elements use 41 SMD high power LEDs separated into 20 color channels and can reach a maximum intensity of 2000 lux.
With the introduction of iQ-LED V2, it is now possible to control the functionality of the lights without the use of a PC. You can store up to 44 different illuminants and one sequence on the device (controllable via microswitches on the device itself).
The lightSTUDIO-L uses a mini-spectrometer that has a better spectral resolution, higher sensitivity and a spectral range of 380 - 820 nm.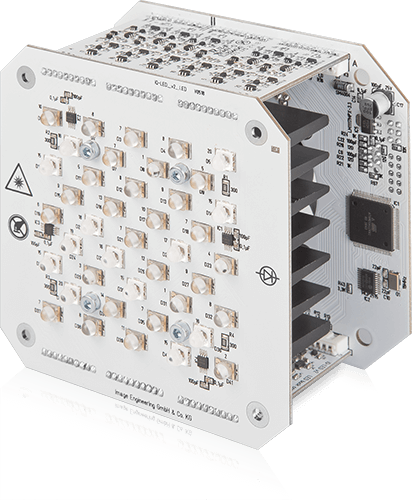 Additional options:
Nowadays, most devices feature still photography and video functionality. When comparing compression technologies, artifacts, motion blur and other aspects in a video, the lightSTUDIO can come equipped with moving targets. One of these is a horizontally moving frame that can hold a variety of targets including dead leaves or a slanted edge target. The motion speed is adjustable up to 3 m/s.
A second movable section is a rotating plate on the back wall of the box which also allows for adjusting the speed (up to 300rpm). It can carry a sector chart or any custom chart. A Timecode display helps to keep track of the sequenced movements in the footage.
The moving lightSTUDIO also includes the iQ-Trigger, a mechanical finger, to release the camera under test automatically. For stabilizing the whole setup with moving parts, the moving target option comes with a Rolling Cart for easy mobility.
Our HDR version of the lightSTUDIO incorporates two LG4 lightboxes to produce high contrast test scenes. The LG4 uniformly illuminates transparent test charts for various measurements, e.g., OECF or color. Test charts are sold separately and do not come with the lightSTUDIO package.
See our chart page for a look at all our transparent test charts.
When attempting to avoid stray light, which reduces the contrast in the foreground, place the light boxes in the back of a surrounding black box. Then insert this box into the center part of the back wall of the lightSTUDIO. That way contrast ratios of more than 10.000:1 can be reached.
The lightSTUDIO Twin offers a space-saving solution for multiple scenes with different illumination. With the same footprint as the lightSTUDIO standard, it provides two separated chambers with independent light sources, allowing you to test auto white balance under specific conditions.
The "Twin" option can also be used as a standard lightSTUDIO when controlling the separated light sources simultaneously.
Price for other variants on REQUEST.
Please note that images are only examples and details and product layout may differ.
Cell phone camera comparison using the moving lightSTUDIO
Download video