Introduction
iQ-LED is an illumination technology developed and produced by Image Engineering. It allows us to create modern light sources that are unique in their capabilities and the possibilities that they offer.
After more than eight years of experience optimizing and using this technology, we currently offer the second version of iQ-LED in a wide variety of illumination devices. iQ-LED technology has enabled imaging labs to discard their existing tungsten or fluorescent light sources in favor of the more flexible and versatile iQ-LED light sources.
What is iQ-LED technology?
iQ-LED technology can generate custom spectra by the optical mixing of emitted radiation from spectrally different LEDs. Physically speaking, iQ-LED is a high-power SMD (surface mount device)-LED-based spectral broadband light source on a 10 x 10 cm light panel with 41 SMD LEDs separated in 20 color channels (see figure 1). These channels cover the visible spectrum from 380 nm to 820 nm and are controlled via 4000 steps per channel and 32 kHz PWM (1000 steps with 128 kHz also possible).
iQ-LED technology can also extend past the visible spectral range and into the IR region. With an IR illumination extension, the spectral range will expand to 380 nm – 1050 nm.
*Graphs are for visualization only; actual wavelengths may vary.
Illumination stability
The iQ-LEDs have illumination stability of +/- 1%. They also have excellent long-term stability via temperature control. The device uses a warm-up period and automated stabilizations to ensure the temperature stays in a range that avoids variations in spectral emission. The temperature control also provides short-term stability, mid-term stability, and spectral stability. Long term stability is achieved by a self-calibration from a calibrated spectrometer that is found in every iQ-LED product.
iQ-LED vs. standard light sources
Compared to traditional light sources, such as fluorescent light, iQ-LED can almost perfectly reproduce different spectra. For example, when generating the D65 illuminant, the iQ-LED will very closely replicate the D65 wavelength. However, fluorescent light will see sharp changes in the wavelength, making the D65 reproduction much less accurate (see figure 3).
It's also worth mentioning that many other light sources, including certain LED-based light sources, do not provide light energy in wavelength ranges above VIS where the differences in the IR cut filter are critical and cannot be observed when using simple light sources.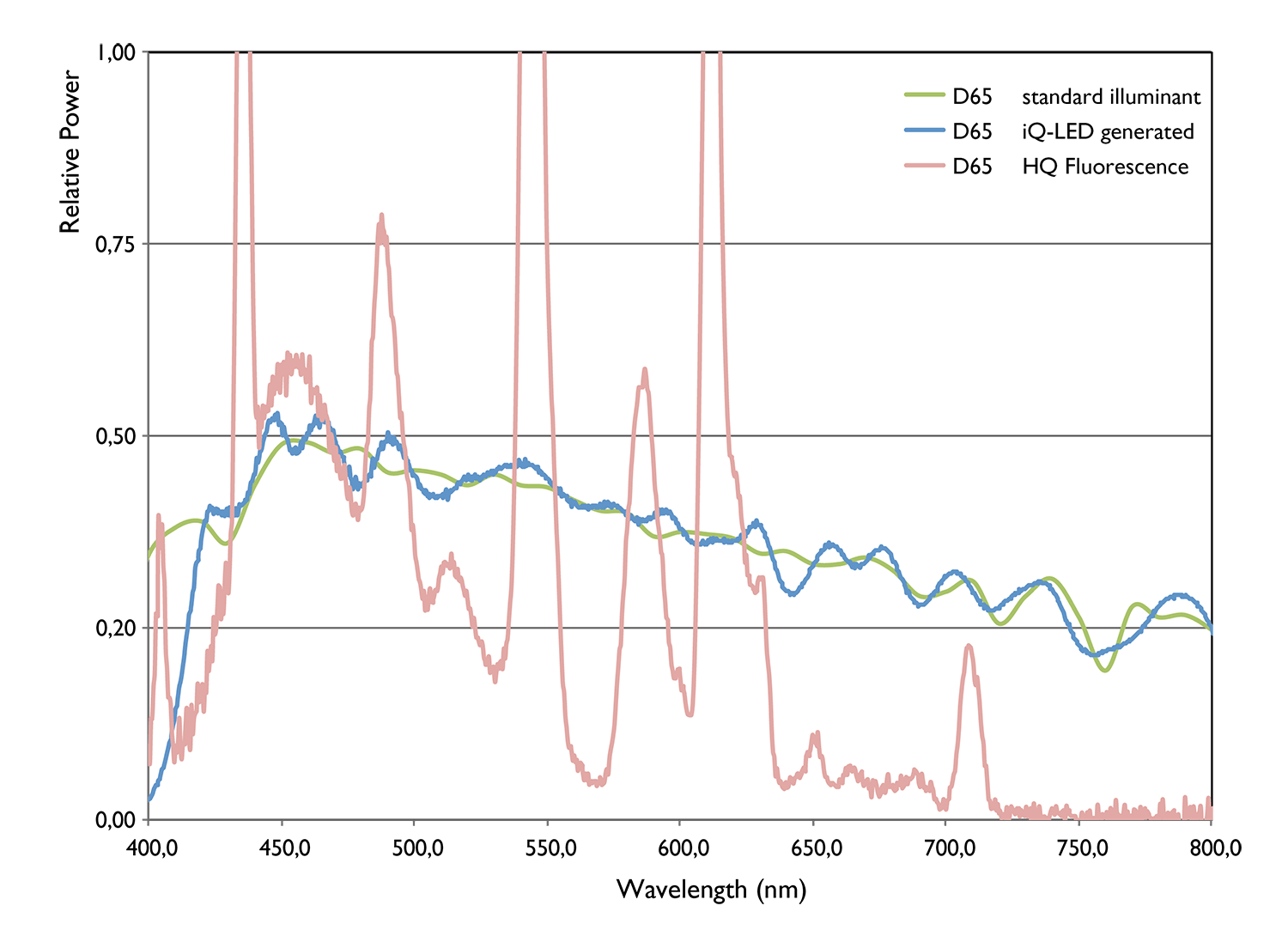 Practical use cases for iQ-LED technology
Using a single light source to create a huge variety of standard light sources (e.g., A, D50, D65, etc.)
Creating reference spectra for calibration and characterization on a production line
Replicating natural light sources
Create flickering light test sequences
iQ-LED illumination products
Want to learn more about how iQ-LED technology can benefit you?
Contact us to set up a training session with our engineers.