Ultra compact camera calibration light source
The CAL2, based on our 22 channel spectrally tunable iQ-LED source, can be adapted for use in many different areas.
Possible applications are:
Adjust the exposure
Detect defect pixels
Determine the luminance and color shading
Check the auto white balance under various light sources (like A, C, D50 D55, D65, D75)
Measure the spectral sensitivity by a module based color correction for a more robust, more accurate measurement
This device can substitute for multiple devices on a production line. It can also solve 90% of all calibration issues, saving time and money. If the camera under test can read out the data fast enough, all of the images needed for the complete calibration can be captured in under 1 second. The 60 x 60 mm large opening allows cellphones to calibrate multiple camera modules at one time, making the calibration faster and more accurate than with any other device.
CAL2 works in almost the same way as our CAL1, but with its more compact and adaptable design, it has been developed to excel in production line calibration. Like CAL1, if upgraded with the iQ-LED C++ API, it can be integrated into your specific test procedures.
Furthermore, it can also be used for camera calibration and testing purposes when space is limited. In this case, the spectrometer used for calibrating the device is separate from the light source, so one single spectrometer can be used for several calibration stations equipped with the CAL2.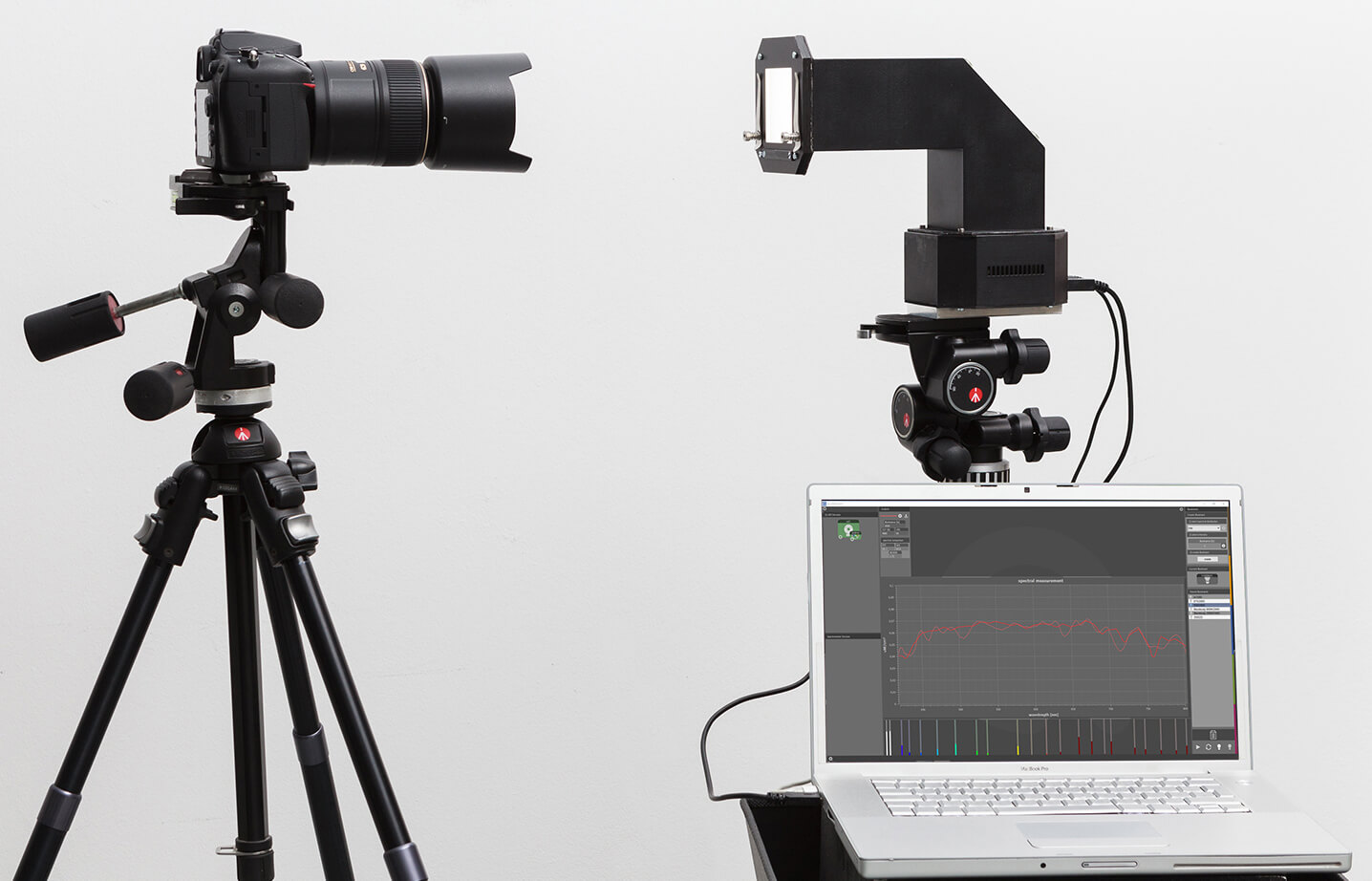 If there are any special requirements regarding implementation into your test setup and workflow, then the whole system can be customized to fit your needs. The unique internal design, for which we have a patent pending, allows us to achieve a similar uniformity (>96%) and intensity (> 1500 lx) that we have in the CAL1 with its integrating sphere.
The CAL2 uses a new mini spectrometer that has a better spectral resolution, higher sensitivity and a spectral range of 350 - 870 nm.
Light source
1 x iQ-LED: 80 LEDs, 22 channels (20 color, 2 white) / 1000 step control / 32 kHz PWM / Spectral range:
400 – 820 nm / approx. lifetime of 10.000 h
Uniformity of luminance in active area
60mm x 60mm output window > 96%
Predefined standard illuminants
D50, D55, D65, D75, 3200(BB), A, B, C
(2000 lx / curve fit of 96% / CRI > 97 for most of them, see complete datasheet for detailed information)
Illumination stability
+/- 2%
Maximum / Minimum illumination values
max. up to 3000 lx / min. down to 25 lx, depending on illuminant, for low intensity use, the system can be combined with a neutral density filter
Power supply
110 V / 230 V, 12 W
Dimension
240 x 280 x 120 mm
Weight
About 2 kg, depending on adaptation
Delivery includes
CAL2 edge box device(1 iQ-LED), calibration device, power cord, USB cable, control software