Application Programming Interface for motor-driven devices
The iQ-Drive API offers a comprehensive yet intuitive programming interface for controlling motor-driven products by Image Engineering.
It is designed to integrate image quality measurement devices, such as lightSTUDIO with moving targets option (lightSTUDIO-M), motor-driven camera bench (iQ-Bench-M), motor-driven vertical chart mount (iQ-Chartmount-VM), camera align rig (iQ-Alignrig) or camera hexapod (iQ-Hexalign-G) into your environment. The included desktop software iQ-Drive provides a convenient way to operate these devices out-of-the-box.
iQ-Drive API enables you to write your own software and implement operational sequences using all of the advantages of our motor-driven devices on the one hand and to stay as flexible as possible focusing only on your requirements on the other hand. Of course, integration into already existing software systems is also possible.
Extensive API documentation is accompanied by useful practical C++ code examples guiding you through the most common motorization use cases. The source code of the desktop software iQ-Drive is included as a reference implementation to facilitate flawless automation.
Find a list of suitable iQ-Drive products here »
Features
Desktop software included both as executable and as a source code reference implementation
No unnecessary dependencies in the interface (only ISO C++ and its Standard Library STL)
Four types of controllable objects available:

axes (combination of motors and controllers),
digital inputs (e.g. installed switches),
digital outputs (e.g. iQ-Trigger)
hexapod controller (e.g. iQ-Hexalign-G)

Linking between axes and digital inputs possible (e.g. two limit switches defining the valid moving range)
Device specific XML configuration files provided by Image Engineering contain all necessary default and limit values to get started right away
Getters and setters for all necessary parameters available
Checking for setting out-of-range values
All required drivers are supplied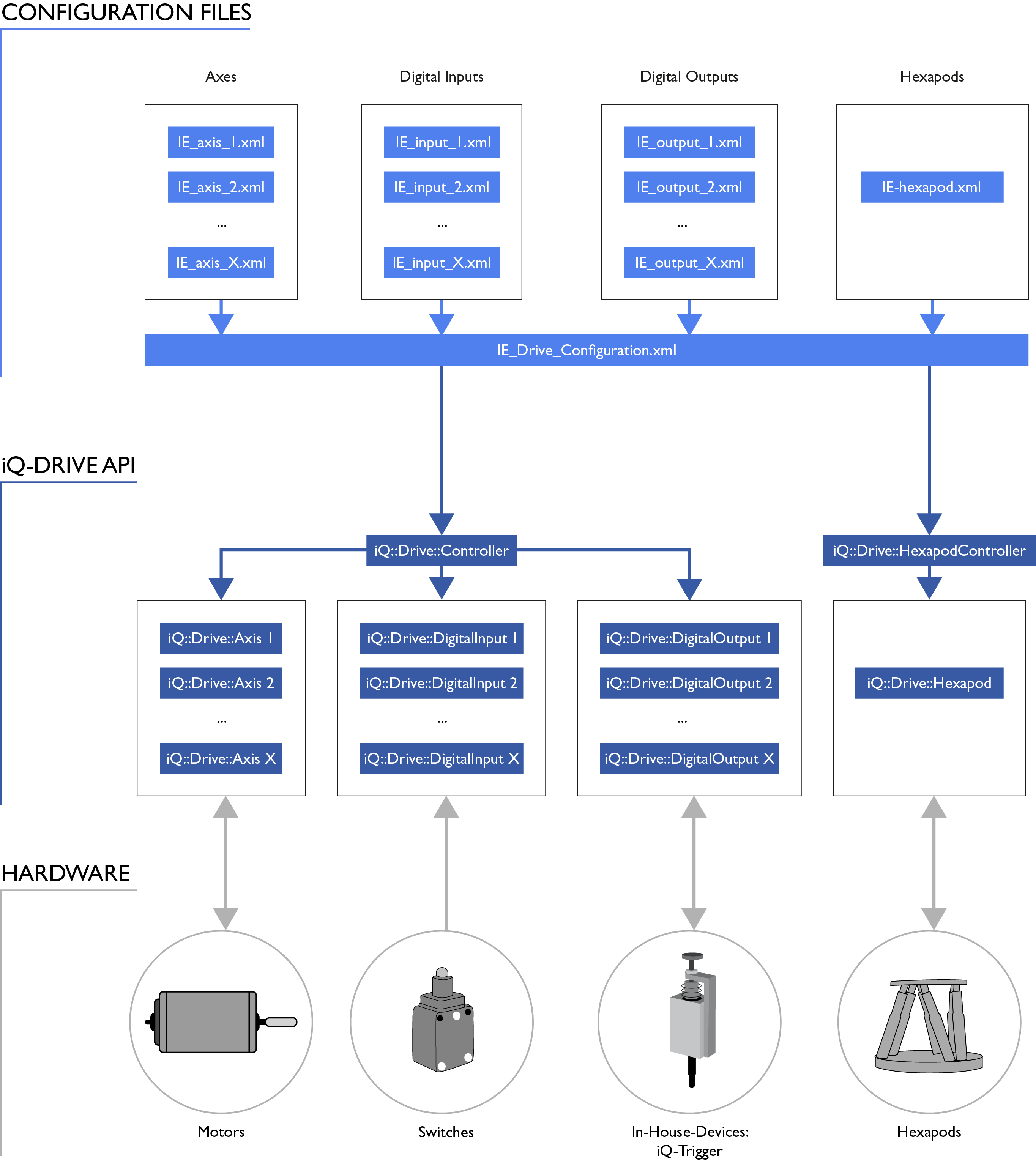 Programming language
C++
Library type
Dynamic link library (DLL)
Build environment
Microsoft Visual Studio 2012
Microsoft Visual Studio 2015
Supported operating systems
Windows 7 (32 and 64bit)
Windows 8 (32 and 64bit)
Windows 8.1 (32 and 64bit)
Windows 10 (32 and 64 bit)